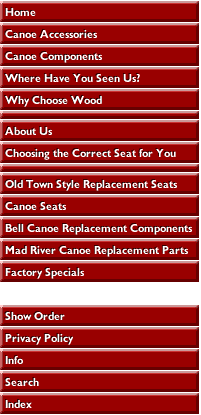 Wood is lightweight, strong, durable, and comfortable.

Wooden seats, canoe parts, and accessories have a natural "flex" to them which acts as a shock absorber giving comfort and reduces fatigue.

Seats are breathable and keep you more comfortable and dry.

Our wooden canoe seats allow the paddler to position themselves to either paddle forward in a tandem canoe with two paddlers, or in the same canoe, sit "backwards" in the front seat to paddle solo.

Still the most economical, and certainly the most attractive, while being rich in tradition.

Wood never becomes extremely hot or cold to the touch.