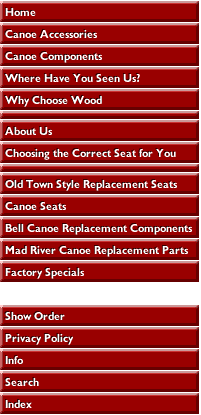 Choosing The Correct Seat For You

We manufacture several different sizes, shapes, and styles of canoe seats. Each seat has its own personality. While the choice may be personal, we can offer these suggestions.

Cane or Webbed

Cane has the traditional look and dries more quickly, but needs occasional maintenance. Webbed is more durable. Originally manufactured for rental canoes where volume usage took its toll.

Styles, Shapes, and Sizes Heavy Duty Seats is most commonly used as a standard replacement on most canoes that do not exceed 34"in width.

Center Seat application is either in the center of the canoe, or in extremely wide canoes where up to 41" is required.

Extreme Duty Seat, this bad boy as the name implies is bigger and stronger in every way. It boasts a heavier frame and larger seat area and is made to accommodate larger people. Due to its larger seat area, average size paddlers use these seats as well and find them more comfortable.

Contour Seat, We are the original designer and manufacturer of this unique seat. Its design naturally places you in the center of the canoe for maximum stability and tracking. It was originally designed for the performance paddlers, however, this also works very well for the average paddler as it is extremely comfortable and does not allow you to slide off center when paddling aggressively. The bonus being that for the novice or young paddler, you don't have to constantly remind them to stay centered. We have these seats installed in all of our canoes.

Ash, Walnut, or Cherry You decide..............All of our woods are solid and select. NO laminations, stains, just natural beauty.