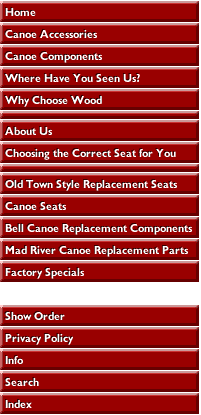 edscanoe.com is a family owned business that was established in 1980. We are located in Derby, Vermont, in the heart of the "Northeast Kingdom."

We have grown from a small business serving a few customers, to one serving major manufacturers. Although we have undergone many changes over the years, one thing that has not changed is maintaining our customer relationships and satisfaction.

We take great pride in our quality, service, and hand craftsmanship. Until now, our products were available only to manufacturers. We are pleased to share our handcrafted products and quality service to the public with the help of this web site.

As the manufacturer, we can provide you with quality parts from the highest grade Vermont White Ash, or select products in Black Walnut or Cherry.

Our dedicated staff listens to our customers needs and strives to improve and invent products that you the customers are looking for. Our unique Contour Seat, Extreme Duty Seat, and our newest addition, the KnockDown Gunwale System are just a few of our innovative thinking ideas that are reinventing the industry. Check back often, as we aren't finished yet!

Please enjoy the website and see the many products that edscanoe.com offers you.

At Ed's Canoe we do it first and do it right!!!!!